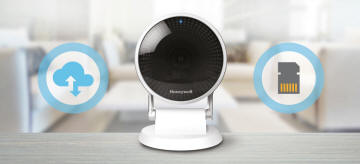 At High Level Alarms we don't sell anything that we don't test. This camera is the one we've been waiting for, begging for, and it far exceeded our expectations.

In order to understand why I'm so excited about this new camera, I need to tell you about earlier versions by Honeywell, where I felt they really fell short but what can you do when there seems to be nothing better out there?

The color quality of what was my previous favorite ( the IP Cam WO ) wasn't bad but the new C2 is HD and superb, bright and crystal clear as they get. A normal field of view never seemed to cut it and what I really wanted to see was a bit of a wide angle field of view. With 138 degree wide angle lens, the C2 really does the job.

A camera that integrates with your alarm system, all on one app, is great but a recording time of 10 seconds was only enough time to turn the camera on and off, but how could you really know what may or may not have occurred, since the camera went off, almost immediately. Alas, maybe my pleas were heard by Honeywell because the C2 records for thirty seconds and maintains a seven day data log.

The only short coming in my estimation is that this is an indoor cam. Why not have the same cam designed for outdoor use as well? Below is a still pic of the clarity and wide angle view of this cam.




A few other features include selectable motion recording, sound recording, or both. Even though it's an indoor unit, I live in Florida, so I've placed it outdoors under a roof area. Time will tell how that goes but so far I'd rate this as the best ever. Honeywell seems to finally be getting on the right track.