Honeywell Lyric - Cam Recognizes Sounds & Sends Text Alerts

The new Lyric Cams can listen, identify and then report, immedidately to you. Every device is easy to install, easy to maintain and provides a higher level of security. You're gonna love it... and it's easy for anyone to operate, from virtually anywhere.



Pre-Programming Assures a Quick and Easy DIY Install



Order "Advance Programming" to assure a smooth, fast and easy install. Only the Honeywell wireless Six-Series sensors utilize a true 2.4 GHz 128-bit encryption signal to prevent possible intruders from jamming the RF signals. In short, it's safe and secure far beyond the competition. Are you worth it? Is your family worth it?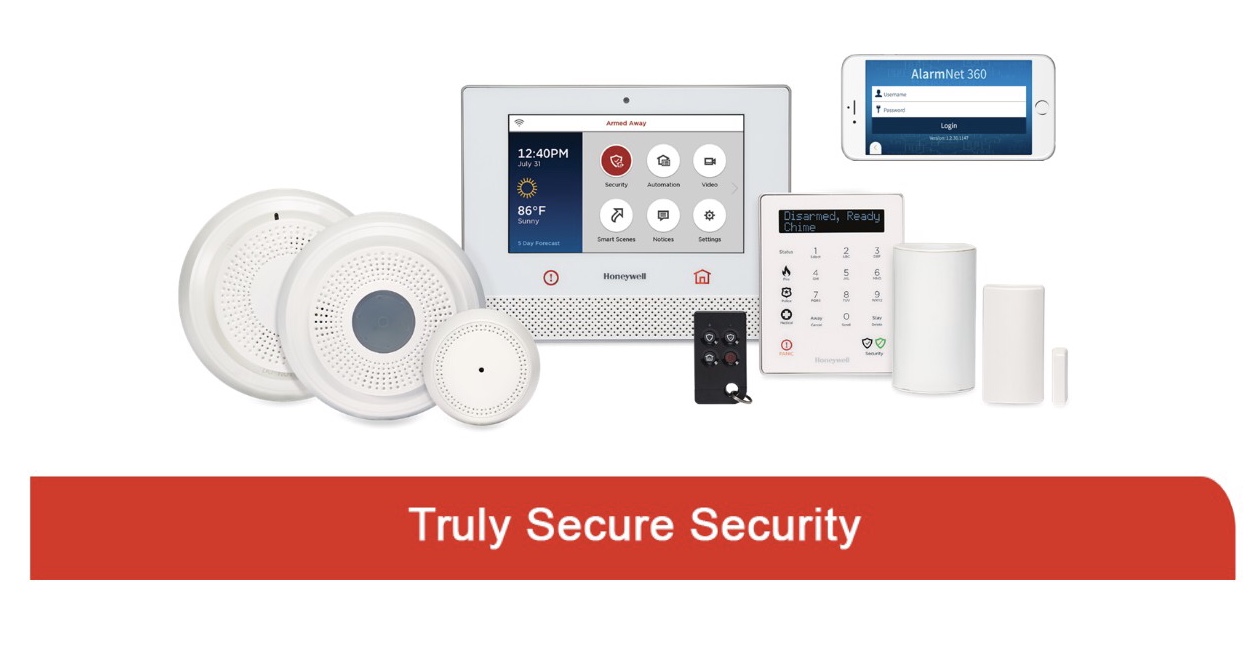 The Lyric Controller handles security, home automation and optional cameras, as per your needs and requirements. Start Big, or start Basic and go Big, later. Did you leave your garage door open? Lyric can let you know. Want to program smart scenes? With Z-Wave home automation devices, you can have your thermostat set itself according to your schedule, or you can adjust it on the fly. You can have lights go on at predetermined times and even have your alarm system arm itself, before you go to bed. Versatility is yours to command.

The controller has built in Wi-Fi and Zwave automation. Add a dedicated cellular communicator to assure back up security. Unlike other systems out there, Lyric can also be updated, which keeps you in tune with with the latest technology. The updates will sometimes make it feel like you just got a new system with the latest features, without you having to do a thing.


Specifications Designed for Comfort - Works with Iwatch

Smart Scenes
-
Yu can now automate your home to perform numerous functions via zwave automation. How you do it is entirely up to you!




GEO Fence

- With activation of Total Connect 2.0, you can have Lyric perform specific functions when you leave your home and exit a pre-determined geo fence zone area. This can include things like adjusting your thermostat or advising you that you have left a garage door open. Turn on or off lights as you move closer or further from home. The possibilities are endless.


Disarm = Snapshot



A great feature for businesses
Built In Camera

-
The Lyric Controller has added a built-in 2-megapixel security camera, so that when the security system has disarmed, a notification with photo can be sent to you in the form of a push notification, text message, or email notification. You'll instantly know if the kids are home, or if the staff is on duty.

Full Control

- Use you PC, Smart Phone or Tablet to access your system from anywhere.


Skybell
- The high-definition video doorbell lets you enjoy new levels of security, control and convenience, wherever you are in the world. With Honeywell Skybell, you can remotely check doorbell activity on the Honeywell Total Connect 2.0 ® Remote Services. You can see, hear and speak to visitors at your door.