Honeywell Lyric Review - We Make DIY Easy

New Products, Features & Possibilities. The Lyric Controller is not just another Honeywell all-in-one wireless diy alarm control, it's part of a new wireless connected platform. This newly designed system is a Lyric Controller with a new line of encrypted Six-Series Security Sensors. It integrates with numerous items, including but not limited to, the Honeywell Lyric Wi-Fi thermostat. Zwave accessibility allows you to automate most everything in your home. The Lyric Controller is backward compatible with previous Honeywell 5800-Series manufactured wireless sensors and detectors. Every device is easy to install, easy to maintain and provides a higher level of security. The Lyric Round thermostat is the most advanced zwave thermostat ever to be designed.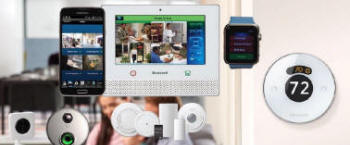 We Do Most of The Work in Advance to Simplify Your DIY Install

Order "Advance Programming" to assure a super easy install. Only the Honeywell wireless Six-Series sensors, such as the Lyric Keyfob, Lyric Door Window Contacts, Lyric Motion Sensors, Lyric Glassbreaks, Lyric Smoke Detectors, Lyric Secondary Sirens and future Lyric Accessories, utilize a true 2.4 GHz 128-bit encryption signal to prevent possible intruders from jamming the RF signals.

The addition of Lyric Lock is useful as it dedicates the Six-Series sensors to communicate with only the originally installed Lyric Controller. Unless deprogrammed from the Lyric alarm control panel, the Six-Series sensors are married to the existing Lyric Controller, which helps protect your investment from intrusion.

The Lyric Controller handles security, home automation and optional cameras. Did you leave your garage door open? Lyric can let you know. Want to program smart scenes? With Z-Wave home automation devices, you can have your thermostat set itself according to your schedule. You can have lights go on at predetermined times and even have your alarm system arm itself before you go to bed.

The controller now has built in Wi-Fi and Zwave automation. Add a dedicated cellular communicator for assured security. Lyric can also be updated, which keeps you in tune with with the latest technology.


Specifications that You Can Live With

Smart Scenes - This is one of the most advantageous additions to the Lyric Controller because it consolidates older Honeywell LYNX programming modes called "scenes and rules" into what is now called, "smart scenes." Once a ZWave home automation device is learned into the controller, all you have to do is go to smart scenes to enable that device into a smart scene, which tells that sensor, when and how to act. This makes the programming of Z-Wave Home Automation Devices into the Lyric Controller one step easier!

GEO Fence - With activation of Total Connect 2.0 and a Second Generation Honeywell Lyric Wi-Fi Thermostat you can set up a GEO fence, which is where you set up a perimeter, for example 500 feet from your location. Anytime you cross out of the set GEO fence, your Lyric Controller can arm itself, close the garage door and raise or lower your thermostats. At the same time, when you cross back over that GEO fence within your pre-set distance of your location, your controller can, for example, lower your thermostat and turn on a front porch light. The fence feature can be manipulated to your liking.

Built In Camera- The Lyric Controller has added a built-in 2-megapixel security camera, so that when the security system has disarmed, a notification with photo can be sent to you in the form of a push notification, text message and/or email notification. In order for the camera feature to work, you must have Honeywell Total Connect 2.0 services activated. Great for knowing that the kids are home, or that the staff is on duty.

Lyric Pricing & Accessories- Click Here

Built-in microphone - The Lyric Controller can receive voice commands to control Z-Wave automation and other features with the use of the built-in microphone. The scenes can include a vast array of devices and simultaneously lock a door, lower a connected thermostat, turn on/off or dim lights, close or open a garage door, etc. These automation smart scenes are limited to the connected Z-Wave devices you have. To future proof the controller, Honeywell has also allotted another radio input for future compatibility in the event there are changes to the current radio standards. This feature is located directly above where the current cellular communicator is to be installed. For DIY installations of the Honeywell Lyric Controller, we recommend adding the (LCP500-DK which is a desk/table top mount.)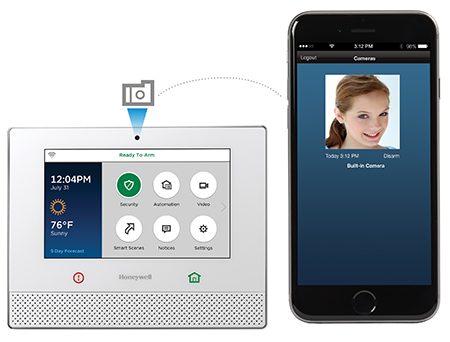 Disarm = Snapshot


Skybell - The Honeywell Lyric Controller has also added integrations with the all new Skybell HD Video Doorbell. The high-definition video doorbell lets you enjoy new levels of security, control and convenience, wherever you are in the world. With Honeywell Skybell, you can remotely check doorbell activity on the Honeywell Total Connect 2.0 ® Remote Services app. You can see, hear and speak to visitors at your door. When you activate Honeywell Total Connect Remote Services to be used with the Lyric Controller, you can control your security system, compatible IP cameras including Skybell, thermostats, Z-Wave Lighting, Z-Wave locks and receive alerts from most smart phones, tablets and computers.

Full Control - Use you PC, Smart Phone or Tablet to access your system from anywhere.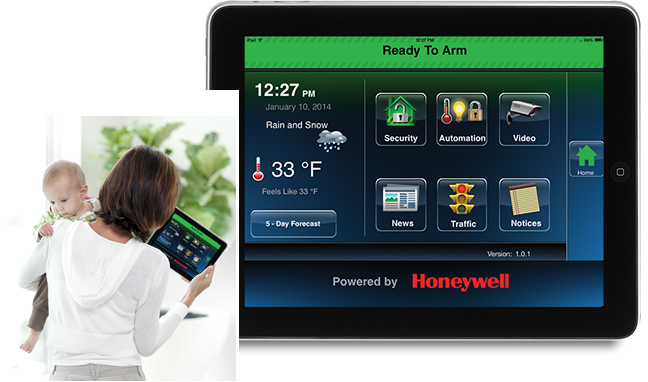 Facts You Should Know Prior to a DIY Install